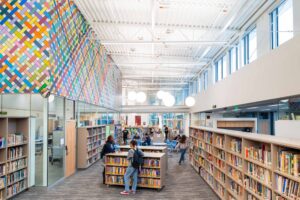 Luminaire Level Lighting Controls
The UW IDL supports NEEA providing market insights on their Luminaire Level Lighting Controls (LLLC) initiative. We have developed several case studies including the Madrona Elementary School (Mahlum Architects), UW Founder's Hall (LMN Architects), and Star Lake Elementary/Totem Middle School (McGranahan Architects) as well as regional high-bay manufacturing, warehouses, and distribution centers. An exemplary project, Bunzl Distribution Center in Sumner, WA saves over 600,000 kWh per year with the implementation of dynamic lighting control that both enhance operations and substantially reduce maintenance cycles for lamp/luminaire replacement. This project was completed by Urban Energy Group of Seattle with significant energy efficiency incentives from Puget Sound Energy (PSE).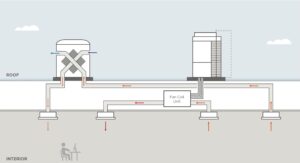 NEEA Very High Efficiency DOAS
The UW IDL supports NEEA providing market insights and education on their Very High Efficiency Dedicated Outside Air Systems initiative. As part of this work, we co-authored a Very High Efficiency Dedicated Outdoor Air Systems (DOAS) Design Guide intended primarily for design engineers and contractors. The guide includes equipment and design requirements and best practices for optimal performance with design considerations, benefits, and applications.
Building Renewal
The UW IDL partners with NEEA's BetterBricks program supporting their Building Renewal initiative including the development of Building Renewal Articles that communicate the energy-efficient benefits of building deep energy retrofits.