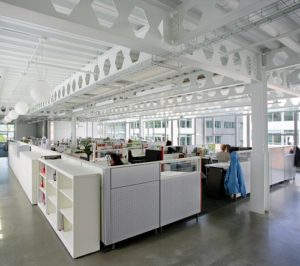 Daylighting Pattern Guide
The UW Integrated Design Lab partnered with the New Buildings Institute (NBI) and University of Idaho's Integrated Design Lab to develop a free interactive tool available for applying proven daylighting strategies in a variety of building types.
The Daylighting Pattern Guide illustrates how to create successful daylighting designs and presents information in a visual manner that appeals to designers as well as those with limited background in lighting design. Detailed case studies are presented for a wide range of spatial scales and uses. Project types include offices, schools, libraries, laboratories, museums, industrial facilities, and recreational facilities and represent a diversity of regional climates. Designers and owners alike can easily see the changes in daylight distribution as alternative design variables are tested in order to quickly identify proven strategies during early design stages without needing to conduct complex simulations for each new design.
Each Pattern explores the interrelationships and role of sky condition, site, building aperture, interior volume and space planning in delivering visual comfort to building occupants while supporting energy efficiency goals. This interactive tool uses a combination of real-world built examples and Radiance computer simulation to set the stage for analysis and comparison of design alternatives.
We have identified approximately 20 examples of well designed daylit spaces around the country. Each building was photographed and measured. We developed a simulation of each space, and then ran a sensitivity analysis of key design variables to see whether the outcome was optimized, and to demonstrate the impact of alternate (good and not so good) design decisions on the daylighting performance. We also identify the key design variables that work together to contribute to the success of each space. These variables include orientation, glazing layout, area, shading strategies, furniture layout, ceiling height, etc.
Access and explore the full Daylighting Pattern Guide.