Center for Integrated Design
Annual Report




2021-2022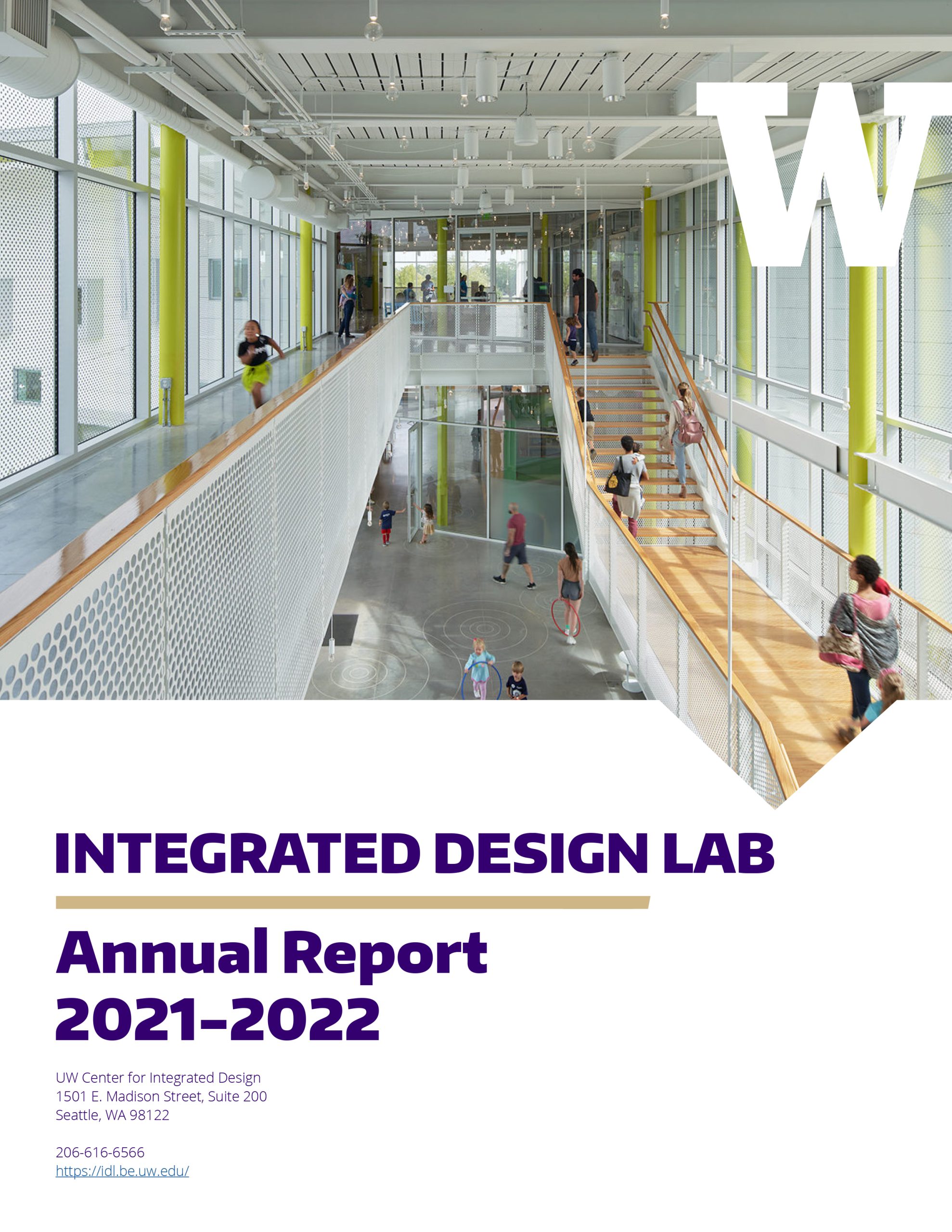 We appreciate our work with you during this unprecedented time to help shape a healthy, productive built environment for current and future generations. The creation of our annual report is an opportunity for reflection and future visioning – we invite you to explore our work from the last year, and to join us in a productive year to come.
Click here for our 2021-2022 Report
Letter From the Directors
Dear Friends and Supporters of the UW IDL,
As we share our latest annual report with you, we reflect on the past year with gratitude. A highlight was our engagement with you – our firm partners, funders, utilities, clients, students, and other collaborators that provide us our deepest inspiration and meaning to our work. As the year turned from 2021 to 2022, we happily emerged back into the world for more in-person engagements, including conferences, working from the office several days of the week, and attending long-postponed community events and celebrations.
We would like to take a moment to thank those individuals and organizations that make our work possible including the Northwest Energy Efficiency Alliance (NEEA), our Puget Sound-regional utility partners, the Seattle Housing Authority (SHA), the City of Seattle, the American Institute of Architects, the AEC teams that bring us into their process, and our Advisory Board, which is helping us expand beyond our traditional boundaries. We look forward to a bright future of expanded collaboration, innovation, and an ever-better built environment for our region.
We completed our fifth year of engagement with our Partnership Initiative, collaborating with  local firms to connect like-minded practitioners, bridge academic research and practice, and build shared research. The collective voice of our Strategic Advisory Board has provided an unparalleled sounding board for our organization. Outgrowths of the initiative inform our teaching, outreach, and research missions. Partners at each firm mentored students in Heather's "Topics in High Performance Buildings" seminar this year, and firms provided sites for tours and visits with UW Architecture's Sustainable Design Case Studies course.  Partner firms participated in a panel session at the AIA/ACSA's Intersections Research Conference discussing "Partnerships with Practice and Academia." The collective research that we are undertaking as a group has seen great success, with the American Association of Architects (AIA) providing additional support and engagement to expand the scope of the project.
In the coming academic year, we are excited to re-double our effort to engage with the people and communities that inspire our work. Often when presenting the Lab's work at conferences or in meetings away from our home in the Pacific Northwest, people remark on the innovative work that is happening in our region. All of this is possible through the support of the people that champion high-performance design in the Pacific Northwest. Our academic – practitioner partnerships set us apart from other peer institutions. We deeply value the trust relationships that we have developed over the last two decades, which provides the foundation for such collaborations.
– Christopher Meek and Heather Burpee
Read more in our 2021-2022 Annual Report {stay tuned! It is coming soon.}
Previous Annual Reports:
2019-2020 Annual Report