Center for Integrated Design
Annual Report




2020-2021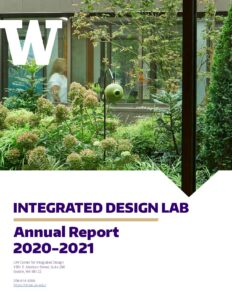 We appreciate our work with you during this unprecedented time to help shape a healthy, productive built environment for current and future generations. The creation of our annual report is an opportunity for reflection and future visioning – we invite you to explore our work from the last year, and to join us in a productive year to come.
Click Here to Read Full Report
Letter From the Directors
Dear Friends and Supporters of the UW IDL,
We are pleased to have this opportunity to share our Annual Report with you, highlighting our most significant outcomes of our 2020-2021 year. Before looking ahead, we would like to express sincere gratitude for the unwavering commitment of our partners: the utility support we receive from the Northwest Energy Efficiency Alliance (NEEA), from individual utilities in the Puget Sound region, municipalities, and allied organizations, creative practitioners who invite us into their projects, and the students, staff, and faculty who make the Lab possible.
Our work has come into sharp focus this year – the devastating climate projections of the Intergovernmental Panel on Climate Change (IPCC) Sixth Assessment Report released in August coinciding with once-unimaginable heat in the Pacific Northwest emphasizes the importance and urgency of the Lab's mission to increase resource efficiency and help eliminate greenhouse gas emissions.
The waypoints on our journey in the coming year offer a bounty of opportunity:
Developing cost effective energy-efficiency and decarbonization resources with communities and building owners that have been historically underserved by our programs
Identifying technical approaches for retrofit strategies that improve the quality and energy performance for buildings that serve the most vulnerable in our communities.
Sharing innovative use of Luminaire Level Lighting Controls (LLLCs) in new construction to improve the visual experience while saving up to 70% of electricity use compared to conventional lighting systems.
Advancing new research-based teaching methods and tools to better quantify lifecycle embodied and operational carbon emissions in buildings.
Building a new professional education program that will bring low- and no- cost simulation tool capabilities to practitioners and firms regardless of size or scale.
We look forward to the next year with confidence that we can come together with evidence-based approaches to the challenges we face as we work toward shared prosperity and a healthier, more productive, and sustainable future.
– Christopher Meek and Heather Burpee
Read more in our 2020-2021 Annual Report
Previous Annual Reports: