Bullitt Center Tour Overview
The UW Center for Integrated Design (CID) operates the tour program at the world-renowned Bullitt Center, a Living Building that opened in 2013.
Public Tours
Public tours of the Bullitt Center are offered most Tuesdays at 4:00 PM and Saturdays at noon. Tours typically take about an hour and are limited to 20 guests. Led by trained volunteer docents and UW CID graduate students, these tours can be scheduled online through Eventbrite. Tickets are $10/person and are non-refundable. On the Eventbrite website, search for Bullitt Center Tours in the "Search Events" box, select a tour date from the pulldown and follow the online instructions.
Private group tours of the Bullitt Center can be scheduled through the University of Washington Center for Integrated Design located at the Bullitt Center. These tours are geared towards those looking for a more in-depth understanding of the Bullitt Center's technical features. These tours are led by a UW CID staff member. Please contact Deborah Sigler, Program Coordinator, for schedule and fee information at dsigler2@uw.edu
*Due to ongoing health concerns around the transmissibility of COVID-19, until further notice, all visitors must bring and wear a face mask.
Virtual Tour
We have created a virtual tour of the Bullitt Center – take a look and get a taste of why this building is so remarkable.
Click Here to View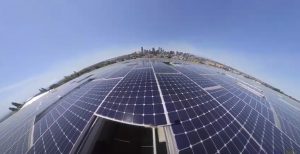 In-Person Tour Overview
To advance both public and professional awareness and support for construction of more high performance buildings, the Center for Integrated Design conducts tours of the Bullitt Center, a certified "living building" that has met the toughest set of environmental building standards in the world. Tours focus on the building's unique integrated design and resource conservation systems, providing participants a view into the future of urban sustainability.
All tours of the Bullitt Center begin in the lobby on the 2nd floor, and will include the building's mechanical and electrical rooms, the greywater and rainwater treatment systems, vacuum toilets, and the "irresistible" stairway. Please use the entrance located at 1501 E. Madison Street. To access the building, you will need to use the call box to dial the UW Integrated Design Lab (IDL).
Tours are accessible for people with mobility challenges. Strollers are NOT permitted on tours and can be parked in the lobby. If a member in your party needs mobility accommodation please contact Deborah Sigler, dsigler2@uw.edu prior to your tour.
We offer the following tours: