Center for Integrated Design
August 1, 2017
UW IDL Releases 2016-2017 Annual Report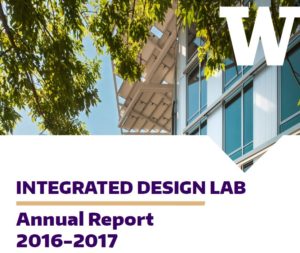 The UW Integrated Design Lab released its 2016-2017 Annual Report, which highlights the lab's recent research, technical assistance, and education work with the Northwest Energy Efficiency Alliance (NEEA), design firms, utilities, research groups, and nonprofit and professional organizations across the Pacific Northwest building industry and beyond.
The Annual Report is part of the lab's commitment to engage with key stakeholders, collaborators, and the broader public to share the impact of its work.
"Today, more than ever, our world needs research and data-driven decision-making," state IDL heads Christopher Meek and Heather Burpee in a Letter from the Directors. "We appreciate our work with you during this unprecedented time to help shape a healthy, productive built environment for current and future generations."
Read the full Annual Report to learn more about the UW IDL's effort to promote sustainable design and meet the challenges and opportunities posed by a rapidly evolving, often complex energy efficiency and building performance space.