Center for Integrated Design
June 20, 2017
Chris Meek Shares Research at Lightfair and Better Buildings Summit
UW IDL Director Christopher Meek recently shared research at LIGHTFAIR International 2017 (LFI), the world's largest architectural and commercial lighting conference and trade show, and Department of Energy's Better Buildings Summit, a national conference for sharing best practices to improve building energy efficiency.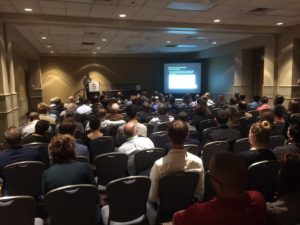 In Philadelphia, PA, the annual LFI event brought together nearly 500 exhibitors and 30,000 participants from around the globe – including architectural, engineering, design, lighting, energy, facility and industrial professionals – in order to showcase groundbreaking technical advances from the lighting industry's leading experts. Meek was selected to present alongside Richard Mistrick (Penn State) and Hayden McKay (HLB Lighting Design) in the panel session "Daylight Control Essentials – From Integrated Lighting to Dynamic Shading".
"The session helped participants understand the process and interconnected strategies needed to implement daylighting solutions that not only improve building energy performance, but also create a positive, visually pleasing experience for tenants."
In Washington, D.C., the 2017 Better Buildings Summit brought together over 900 participants for information exchange on tested solutions to reducing energy consumption significantly over the next decade. Meek joined a group of speakers from leading organizations in the commercial, industrial, public, multifamily, residential and data center sectors who presented on leveraging energy efficiency technologies, business practices, and partnerships to realize cost savings, boost job creation, and improve competitiveness in the market. Meek participated alongside Roise Langner (NREL) and Scott Hackel (Seventhwave) in a technologies and upgrades panel "Plug Into Savings: The Best Meter and Control Strategies for Office Plug Loads." Meek presented outcomes from the UW IDL's plug load field study of the Bullitt Center – a net-positive-energy building in Seattle, WA – and delved into the measured energy savings, key insights, and lessons learned from deploying plug reduction strategies.
To learn more about UW IDL's research, visit our results page.